BedWars PIRATE DAVEY KIT: How to Get the PIRATE DAVEY Kit, Use PIRATE DAVEY & Gameplay in Roblox BedWars with Sunny
by Sunny
Swashbuckling his way into the world of BedWars, Pirate Davey has arrived with a bang! This salty seadog is equipped to take on any adversaries in battle wielding his formidable Cannon. So batten down yer hatches and prepare for a swashing good time when you join forces with this buccaneer who first set sail onto Roblox back on July 19th 2021!

Source: Pirate Davey Kit Video
Abilities
Cannon
The Pirate Davey Kit is here to bring some explosive fun - it starts you off with one TNT, and for a meager sum of 30 iron coins from the Item Shop, ye can acquire your very own cannon. Load up yer pirate cannon with just one block o' TNT fer an impressive double-shotted blast that'll send ya opponents flying skyward! But beware - if ya get grounded by enemy fire before launchin', then prepare to walk the plank instead of shoot into the heavens.
Also players are also able to launch themselves out of a cannon.
TNT Discount
Pirate Davey can purchase TNT for a discount, costing 30 Iron instead of the usual 35 Iron.
Trivia
The Pirate Davey skin is the only skin with an artificial body part.
Pirate Davey was originally from Islands, another game made by Easy Games.
Source: here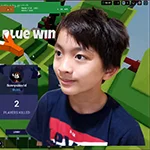 About Sunny
Hi, Sunny's here. I grew up in San Jose, California. I love playing games and am always up for a challenge. Whether it's a board game, video game, or even a physical game like tag or hide-and-seek, I'm ready to play! I'm also a big fan of puzzles and brainteasers. I love putting my mind to work and seeing how quickly I can solve them. If you're looking for someone to play games with, challenge, and have some fun with, then I'm your game buddy now! Let's play together soon!
Leave a Reply