Roblox Bedwars FIRE SHEEP UPDATE Log & Patch Notes: Balance Changes, Items, Bug Fixes
by Sunny
The BedWars universe just got bigger and better! On January 27th, 2023 the Fire Sheep update was unleashed bringing a host of exciting bug fixes and changes. From improved gameplay to juicy new secrets lurking about - this patch is sure fire fun for all players!
Fire Sheep (Limited Time!)
Place down a Fire Sheep Statue to protect your base. Feed it Purple Hay Bales to upgrade its damage and attack range.
Free Kits of The Week
Cyber (First Time Free!)
Davey
Beekeeper
BedWars 5v5
Added a bed shield that prevents beds from being broken for the first 2 minutes of the game
Balance Changes
Lucía
Candy per 100 damage: 40 → 50
Builder
Bridge Printer deploy time per scaffold: 0.1s → 0.05s
Adetunde
Frost Crystal drop rate: 30% → 70%
Frost Crystal drop cooldown: 2 seconds → 1.5 seconds
Fisherman
Time to bite: [4s-8s] → [6s-10s]
Fish resources scale over 12m: 40% → 140%
Metal Detector
Reward scaling over first 10m: [30% - 230%] → [30% → 150%]
Trapper
Trap cost: 16 iron → 32 iron
Nyx
Max armor pen: 20% → 15%
Baker
Apple heal: 22 → 18
Pie speed boost: 30% → 24%
Ready to try something new? Head over to the Roblox BedWars page and experience an updated version of this fan favorite! Whether you're a master strategist or just starting out, our website has all the info you need for your perfect Roblox BedWars journey.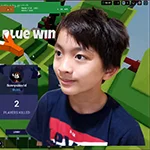 About Sunny
Hi, Sunny's here. I grew up in San Jose, California. I love playing games and am always up for a challenge. Whether it's a board game, video game, or even a physical game like tag or hide-and-seek, I'm ready to play! I'm also a big fan of puzzles and brainteasers. I love putting my mind to work and seeing how quickly I can solve them. If you're looking for someone to play games with, challenge, and have some fun with, then I'm your game buddy now! Let's play together soon!
Leave a Reply